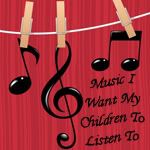 (Photo source - Flickr.com)
After promising Ghostwritermummy this post for the last 3 days, I finally have decided on this fantastic album.
I have to admit I have struggled with this weeks 'Music I want my children to listen to'. I have written 3 posts previous to this one, and each one just did not feel right. On researching this post, I kept coming up with songs I liked but I was not so keen on the album. Then I decided on using one of my favourite albums of all time, but found this too personal. I could not put it on a platform and then watch and it being aired to the blog world! I know this is just a music link, but that's just how I felt!
So after much deliberation and frustration, I decided to look up the '50 albums that changed time'
here
at the Guardian.co.uk site, to see if any of my albums I have on my Ipod were listed.
The first two albums were no surprise 'The Velvet Underground and Nico' (1967) and 'The Beatles' Sgt Peppers Lonely Heart club Band (1967).
I was thrilled to see Joni Mitchell 'Blue' (1971)at number 14, as I have been umming and ahming whether to use this album for this music link.
This album is extraordinarily beautiful and I still love it to this day. My Mother introduced me to this album in my late teens and I have adored it ever since. Joni Mitchell's 'Blue' remains the most influential of all the early Seventies outing by confessional singer-songwriters. 'Joni laid bare her heart in a series of intimate songs about love, betrayal and emotional insecurity.'
It is certainly a Woman's album, but it does appeal to the wider public, with her single voice and involving song cycle of romance found and lost.
Through the album Blue' it's also astonishingly open and gracious. Songs such as 'All I want', 'Carey', 'California' and 'A Case or you' work equally well as poetry and pop music.
Her work has influenced such artists as Tori Amos, Prince and Elvis Costello and open the flood gates for contemporary Female singer/songwriters. I think I am going to listen to it now... whilst my Husband is at work (not his favourite!)
If you would like to join in the weeks 'Music I want my children to listen to' go over to the lovely
Ghostwritermummy
and link up! It is a great way to find new music and get your dancing shoes on!
Bxx