Recently my dear friend has had a new baby, and I wanted to make her a keepsake for her little girl. I remember when I had my two children, the gifts that have stayed, have been the ones which have been treasured and loved.
My initial thought was too sew something for her baby, but with a distinct lack of fabric in my sewing box this couldn't happen. So I thought about doing a fabric card with her babies name and birth date cut from fabric.
I brought the frame at my local shops, and wrapped it in some pretty pink tissue and bubble wrap.
I was delighted to hear from her recently to say she 'loves' it and I was equally pleased it arrived all in one piece.
I have also joined in a Tea Towel swap over at Leonie's blog
kiwiatheart
she is running the Tea-Towel swap 2011, and I was lucky enough to join in just before it closed on the 12th May. I love tea towels and I have been known to put my tea towels in frames see
here
and hang them on my wall!
I think I am going to have fun choosing my tea towel for this swap, with so many lovely ones around.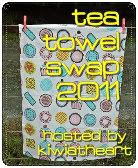 I hope you all have a lovely weekend!
Bxx